Lost Ark Guide: The Best Way To Farm Gold
An integral part of any MMORPG is the economy. To make purchases in the game and develop your character, you will need a unique currency. Many of them are in LOST ARK, but one of the main ones is gold. Earlier we talked about the best way to Farm lost ark silver, today, we come to talk about the real ways to Farm Lost Ark Gold.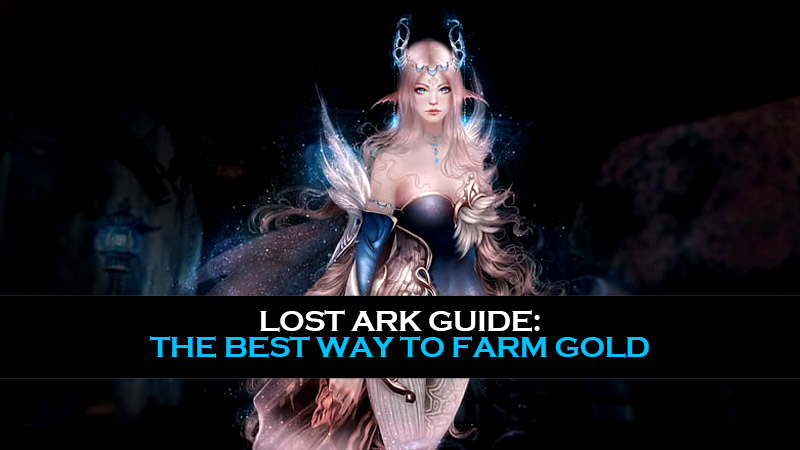 WAY 1: QUEST
At the start of your journey by way of the planet of Acrasia, you need to go through the storyline as a reward for which you might receive some gold. Also, it'll not be superfluous to complete side quests. For most of them, in addition, they give gold.
Until Battle Level 50, you have no way to earn gold other than through story and side quests.
WAY 2: EFON UNION
At the "Exchange of Gold" merchant located in any major city, you can get gold in exchange for the Signs of the Efon Union.
It has three types of goods, which differ in cost and content. You will receive gold in different amounts in each, but there is a chance to get plates or an ingot. Light Gold Plate gives 100 gold when used. Heavy Gold Plate gives 1000 gold, and Gold Bar gives 10000 gold.
As a reward for finishing every day and weekly quests from the Efon Union, you will receive points. For daily quests - 2 points (maximum three quests per day), for a weekly quest - 12 points (maximum three quests per week).
Upon reaching 70 points in a week, you can pick up all the Signs of the Efon Union. Depending on your maximum equipment level, the number of Signs of the Efon Union changes. Once you have taken a reward from one character, you will not receive it from other characters on your account.
WAY 3: ISLANDS OF ADVENTURE
Islands of adventure emerge into the sea every day, from 11:00 to 23:00 every 2 hours. With some probability, the rewards may be gold.
According to the Process compass, the islands are available during the day, and their reward does not change. You can pick up a reward only one time per day.
The level of gold received is determined by your maximum equipment level.
WAY4: SECRET ROOMS IN THE HALLS OF CHAOS
Secret rooms may appear in any Halls of Chaos. You can very easily distinguish them, as their portals are of a distinctive color: yellow or red. You can meet a chest or a sniffer in yellow, and in red, you can meet a boss. You will receive gold after killing any of them, but only if there is Order energy.
WAY 5: FAULT
With some probability, for completing the Rift in Peyton and South Bern, you can get a Relic quality Treasure Map. You can get fairly loads of gold and sources for its discovery and passage. Hence, it is worth going to all of the faults on these continents. The reward can only be received as soon as per day.
WAY 6: ABYSS DUNGEONS
Once you reach item level 1325, the Abyssal Dungeon "Heart of Oreya" will become available, where you can also get gold for completing it. It has two dungeons, and everyone has two modes (standard and heroic). If you want to get normal mode rewards, you will not enter the heroic mode. The reward for each dungeon can only be received once a week.
Crazed Forest: Normal - 700 gold, Heroic - 800 gold.
Rotting Glade: Standard - 800 gold, Heroic - 900 gold.
WAY 7: ABYSS RAIDS
Once you reach a 1370 gear rating, you will unlock Void Raids. So far, it has only one Guardian Argos. It has three phases, and gold can be obtained for each of them for its complete passage. You can receive 3300 gold weekly.
WAY 8: LORDS OF FETRANIA
At item level 1415, you can start earning gold by Raiding Lords of Fetrania. There are currently three bosses: Voldan, Belakis, and Ku-Sathoth. Each of them has many phases, and gold is offered for the passage of every single phase. The reward might be received when a week for completing each raid.
Voldan has two modes, for which you will get gold: standard (obtainable from level 1415 of equipment) and heroic (from level 1445 of gear). You can get 3300 gold for the standard model and 4500 gold for the heroic mode.
Belakis also has normal (from gear level 1430) and heroic (from gear level 1460). And you can earn as much gold as on Voldan.
Ku-Sothoth only has a normal mode available from gear level 1475, and you can get 4500 Lost Ark gold as a reward.
WAY 9: AKRASIA EXPRESS
When you are new to the game, then most likely, the Acrasia Express missions are available to you. You will receive valuable resources and gold to harden your equipment by completing special quests.
WAY 10: TRADE
Craft is also not a little profitable occupation. You can collect crafting resources, craft items from them, and put them up for auction.
You can even trade other transferable goods such as jewelry, felt stones, and even more.
WAY 11: ONE-TIME GOLD RECEIPT
The game also features many activities for which you will get gold after per account.
As being a reward for raising your reputation with NPCs, you might get gold. By way of example, you can get five gold coins upon reaching the Revered level with Sillian. When applying them, you can obtain 500 gold. And you will find many such NPCs, so don't neglect to offer them signs of consideration every single day to raise their reputation.
Collecting the Masterpieces of Painting collection may also allow you to earn gold. You could see Patron's Caskets containing loads of gold in the rewards.
Completing the quests of the Efon Union, you increase the reputation of the Efon Union, for which you can get rewards. So far, there is only one quest for which you can get gold, and it is located on the island "Headquarters" Corporation "Nifflers".
To earn a lot of gold, you will need to participate in all listed activities as much as possible.